Education and Credentials
1978: Received A.A. Degree with Honors; Miami Dade Junior College.
1980: Received B.S. Degree (Botany); University of Florida.
1982: Graduated Soma School of Massage; Gainesville, Florida.
1982: Passed Florida Board exams and received Florida Massage License #MA4249.
1992: Received National Certification in Massage Therapy and Bodywork #004449-00.
1982-present: Massage Therapy Continuing Education classes: I have met or exceeded the 12 hours/year required for Florida license renewal since 1982.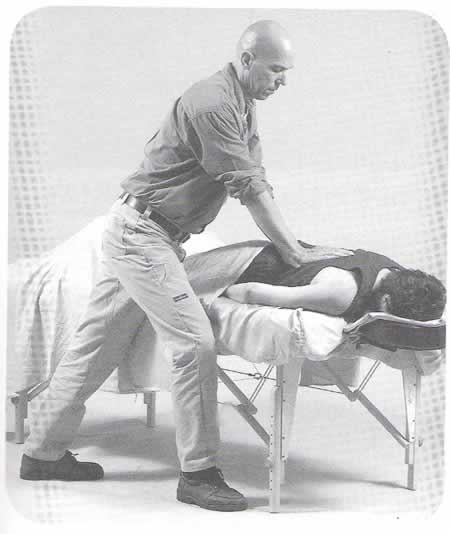 Massage Experience
1982-1985: On staff at Sue Lewis Physical Therapy
Scott provided massage treatments for approximately 30-40 patients per day at this P.T. facility. In this progressive clinic, massage therapy was used to assist in the evaluation and treatment of patient maladies long before recent trends to include massage in clinical settings. Scott was also occasionally responsible for consulting with the primary care physicians regarding patient progress. Additional duties included administering electrical stimulus, traction, ultrasound, ice and heat packs, hydrotherapy, and biofeedback, as well as managing patient flow through the clinic. While at Sue Lewis Physical Therapy, Scott gained valuable experience in the evaluation and treatment of injuries, standard medical procedures, and patient-therapist relations.
1985-Present: Private Massage Therapy Practice 
Scott sees approximately 30 patients/week in his private practice, With a focus on relieving painful conditions and maintaining optimum health, the clients range from adolescent to geriatric, and from business professional to sports professional. Scott specializes in Sports Massage, working with youth, amateur and professional athletes (including Olympic Gold Medallists, Super Bowl Champions, Hall of Fame Racquetball Champions and French Open Tennis Champions). Scott has also traveled to the 1989 Ironman Triathlon in Hawaii as the personal therapist of several competitors, and to the 1995 Australian Open and Peters Open tennis Tournaments as the therapist of several professional tennis players.
 1985-1994: University of Florida Athletic Association
As a Massage Therapist working with University of Florida athletes for 9 years, Scott has gained a 'behind the scene' view of college athletics and first hand experience in dealing with injuries and common complaints that arise from competitive athletics, as well as working as an adult with young adult patients. Scott also traveled extensively with athletic teams, consulted with coaches and coordinated treatment protocol with Athletic Trainers and Sports Physical Therapists.
In 1988 Scott was presented an official "U. of F. Letter Blanket" for his contribution to the Gymnastics team and was recognized in front of a home crowd of approximately 6000 fans. 
In 1989 Scott received an official Southeastern Conference gold ring for helping the UF Gymnastics team win the Southeastern Conference Championship.
In 1994 Scott chose to retire from working with University teams, choosing to focus on his private practice while pursuing other professional endeavors.
1987-Present: Director and owner of Southeastern Sports Massage
As Director of his own clinic and educational facility, Scott has been involved with the development and implementation of projects such as; 
* A Sports Massage Clinic in Gainesville, Florida
* A Sports Massage Workshop series taught in many areas of the U.S.A.
* An Internship Program offering advanced Sports Massage training within the athletic environment at the University of Florida.
The above programs were discontinued in 1995 when Scott was elected President-Elect of the American Massage Therapy Association. Scott continues to utilize Southeastern Sports Massage as his business name, but it is currently limited to his private practice.
1989-1993: Examiner for the Florida State Board Exam
Scott served as an examiner for the Florida Department of Regulations, Board of Massage where he reviewed and judged the practical portion of the examination for State Licensure in Massage Therapy. Scott not only graded the individual candidates but also participated in the continual development of grading criteria for examiners.
Publications
1996-2004: Co-Author of book on Sports Massage
Scott co-authored a book with Pat Benjamin, PhD titled "Understanding Sports Massage" which was published by Human Kinetics.
2005-Present: The success of "Understanding Sports Massage" has encouraged us to update and upgrade the book for a second edition. The second edition came out December 2004, and is still in publication.
News Media
Scott has had numerous articles and commentaries published in "Massage Therapy Journal" and "Hands On". Scott has also contributed to various articles and has been quoted in both local and national newspapers such as "The Gainesville Sun" and "USA Today".  Scott has appeared in a television interview on "Fox News", and was the guest of a talk show on a local television station.
Videos
Scott developed and supervised the filming of two videos. The first was on the proper performance of technique as agreed upon by representatives of Florida Massage Schools, which was offered to the State of Florida to be used as a standard for State Board Exams.  The second was in connection with his Sickle Cell research. Scott created a massage protocol that was easy to learn and could safely be performed by the lay-person. This video provided the step-by-step instructions of that protocol, which parents followed to massage their children with Sickle Cell Disease.
Research
1996: Sickle Cell Study
 Scott was a member of the research team that conducted a study titled "Sickle Cell Pain: Alternative Approaches to Pain Control". The study was conducted at the University of Florida College of Medicine, Shands Medical Center. Scott's primary role was in the creation of the Massage Therapy protocol for the study as well as the actual application of the massage during the study.  The results of the study indicated that massage did not cause the onset of painful 'crisis' and was somewhat successful in reducing the experience of pain in those with Sickle Cell Disease. 
A second, more comprehensive study was designed and granted funding.  Scott had to step down from this phase of the study due to his election to the Board of Trustees of the AMTA Foundation, which gave the grant proposal. The results were published in "Alternative Health Practitioner, The Journal of Complementary and Natural Care".
2003: Sickle Cell Study
Based on what was learned in the previous two studies, Scott determined that, for the sickle cell population, it might be cost effective to teach parents of children with the disease how to give massage to their own children. A research team at the University of Florida College of Medicine, Shands Medical Center conducted a study titled "Teaching Massage Therapy To Parents Of Children With SCD: Feasibility Study". As a part of this team, Scott developed a simple and safe massage protocol that could be easily learned and an effective method of teaching it to students of varying learning capabilities. Scott created a videotape of the massage protocol and taught the parents in evening classes. Conclusions were that parents can learn a simple massage protocol to use at home, and such massage is helpful for relieving symptoms related to sickle cell disease.
Massage Therapy Professional Organizations, Positions and Awards
1986-1990: President, Gainesville Chapter; and member of the Executive Board of the Florida State Massage Therapy Association (FSMTA). Received numerous FSMTA recognition awards, dates unknown.
1987-1990: Secretary/Treasurer, Membership Chair, and Office Manager of the Florida Chapter of the American Massage Therapy Association (AMTA).
1988-1989: FSMTA Bylaws Committee, Chair
1989-1993, 1995-1996: AMTA National Bylaws Committee, Chair
1990-1992: President, AMTA Florida Chapter
1990-1991: AMTA National Planning Committee, member
1991: Recipient of the AMTA Florida Chapter Meritorious Award
1991: Recipient of the AMTA National Meritorious Award
1992: AMTA National Strategic Planning Committee, member
1992-2000: Moderator of the AMTA House of Delegates
1992-1998: AMTA National Special Committee on Governance, member
1994-1995: AMTA National Special Committee for Policies and Procedures, Chair
1994: AMTA National Supervisor of Elections
1995: AMTA National President-Elect
1995-1998: AMTA National Executive Committee
1995-1998: AMTA National Finance Committee
1996-1997: AMTA Representative to the Federation of Massage, Bodywork, and Somatic Practices
1995-1998: Trustee of the AMTA Foundation
1997: AMTA National Special Committee for AMTA and AMTA Council of Schools Relationship, Chair
1997: AMTA National President
1998: AMTA National Immediate Past President
1998: AMTA National Special Committee on Affiliations, Chair
1998 – 2000: AMTA National Bylaws Committee Member
2000: AMTA Special Committee to Evaluate Changes in Governance
Additional Activities:
Over the years, Scott has also participated in numerous other activities in his role as Massage Therapist, including the following:
Involved in the initial creation of the National Certification Exam for Massage Therapy and Bodywork and the subsequent decision to separate it from the AMTA making it a completely autonomous body.
Involved in the creation and development of the AMTA Foundation and the legal and logistical relationship between the AMTA Foundation Board of Trustees and the AMTA Board of Directors.
Involved in the legal and logistical relationship between the Commission on Massage Therapy Accreditation and the AMTA Board of Directors.
Consulted with Federal Blue Cross and Blue Shield regarding the inclusion of massage benefits in their insurance coverage.
Attended several international conferences on complimentary and alternative Medicine.
Participated in several meetings of the National Conference of State Legislatures consulting on the Massage Therapy Profession and educating regarding licensing issues in their states.
Keynote speaker for a one-day Complimentary and Alternative Medicine conference for the general public, sponsored and hosted by a New York hospital.
On March 26, 2001 Scott testified, as a representative of AMTA and the profession of Massage Therapy, before the White House Commission on Complimentary and Alternative Medicine.
Hobbies:
Scott has a wide range of interests and enjoys changing hobbies from time to time.
* Volunteering: Scott believes in the value of giving and has been a volunteer at one thing or another all his life.
*Study and practice of spiritual philosophy and traditions: Scott studied Christian traditions in his youth, moving through agnosticism and on to eastern mysticism. Scott has studied Buddhist traditions and practiced Yogic traditions, and has served as the leader of a local meditation center.
* Travel and interaction with people of various cultures: Scott has traveled to various regions of the world and prefers to get away from the tourist areas to mingle with local culture. Scott rode his bicycle through Europe, and rode a camel in the deserts of Morocco. He's stayed in a tree house in India as well as in a Palace, having tea with the Maharaja and the Prince of Jodhpur. Scott has stayed in a small agricultural village in remote India where he supported a foster child to adulthood. He gambled in Aruba, snorkeled Culebra, and bungee jumped in Orlando. He loves rough travel, saving the easy stuff for later in life. 
* Dog handler: Scott spent a year in the dog show world where he learned to groom and handle show dogs. Rupa, his Champion Kerry Blue Terrier, really enjoyed going to shows during his life.
* Artist: Scott began studying art in 1998. He is enjoying creating, exhibiting, and selling his work and has won several awards for his paintings. He served as President for the Gainesville Fine Arts Association and on the Education Advisory Council for the Harn Museum.
* Gardening: Scott has been gardening, both ornamental and agricultural, since childhood and his massage clients enjoy wondering through his bromeliad collection.       
*Writing: In addition to academic writing, Scott also likes to do creative writing when he has the time. He has, like so many others, written half of his first novel.
Copyright 2006 – Images and web site content property of Scott P. Lamp. All rights reserved.